Our history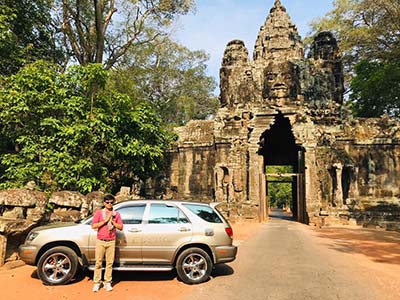 We are a small team of experienced English and French speaking taxi drivers, based in Siem Reap and Phnom Penh. We are always at your disposal to drive you through Cambodia whatever the requested destination.


Some of us started as tuk-tuk drivers, and now we all have our own private car and operate as private taxi drivers in Cambodia. Each of us knows the Cambodian roads and sites very well, as we have been touring for many years. Thus, we also know the hidden gems of amazing Cambodia, and are always happy to make you discover our authentic country. We offer private taxi tours, what means that you are never mixed with other travelers. Our taxi drives are always private. The tours we offer are completely personalized and our drivers are always at your disposal to follow your wishes.

In case you want to discover more deeply the local culture and history of Cambodia, we can also offer you the services of our French or English speaking guides, in addition to our private taxi service. They will be very happy to share with you their knowledge and love of Cambodia. Our private taxi tours go from one day to several weeks (3 weeks is the best to see all of Cambodia).


All our cars are safe, comfortable and air-conditioned. For small groups up to 4 travelers, we offer our taxi services in SUV (like Lexus 300 or Toyota Highlander), for groups of friends up to 8 travelers we offer the Toyota Sienna or the Hyundai H1, and for groups up to 10 travelers we offer the Ssang Yong. For larger groups up to 25 travelers, we also have a bus (Toyota Coaster).

Every year we welcome travelers from many countries, such as USA, UK, Canada, Germany, France, Belgium, Singapore, Australia and Switzerland.
Our travel agents are all English and French speaking. They are always ready to assist you in organizing your dream trip.