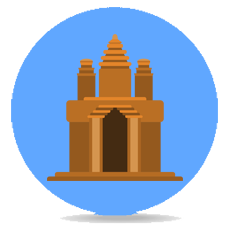 When planning a trip to Cambodia with your private driver, you certainly want to know how much money you need to plan roughly for entry tickets to various sites that you will visit during your private trip to Cambodia.
Thus, it's good to know, that the most expensive ticket currently is the Angkor Pass. This is the entry pass you will need to visit the famous temples of Angkor in Siem Reap. The price actually also depends on the number of days that you will spend on your visits with your private driver.
For example, the ticket price for 1 day tour in Angkor is 37 USD. If you visit the temples in 3 days, the cost is 62 USD. Or, you can explore the temples during 1 week, in that case, the cost of the Angkor Pass will be 72 USD per person. This may sound expensive, but the area covered by the pass is very wide and represents dozens of temples and sites to visit.
For the rest of your trip, entry fees in Cambodia can vary between 2 and 10 USD per person. For example, to visit Phnom Chisor, you will pay 3 USD per person, for the Tuol Sleng museum, you will pay 5 USD per person, for the Royal Palace in Phnom Penh you will pay 10 USD per person etc. These prices are valid on January 2020, and are of course depending on tarif changes from local authorities.
Your private driver will be glad to help you to buy all tickets you need during your trip to Cambodia.