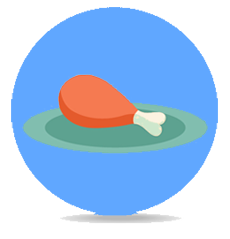 During your private trip to Cambodia, like during any other trip abroad, you would certainly like to taste the specials of local cambodian cuisine.
Cambodian cuisine offers many various tasty dishes. The best known are the Amok and the Lok-Lak. Amok is a kind of flavored curry made with coconut milk, that can be served either with fish or with chicken. Lok-Lak is a dish made of chopped beef in a tasty sauce.
Of course, during your private trip to Cambodia, you will certainly have the opportunity to stop at the Skun market to taste the famous fried spiders or other fried insects, if you wish. During your trip to Cambodia, you can also taste the local fruits such as dragon fruits, mangoostens, mangos… maybe even some durian (a very smelly but also highly praised fruit).
Whatever your preferences, do not hesitate to ask your Cambodian driver for advice, who will be able to help you with his recommendations for the choice of cambodian typical restaurants. Even if you are adventurous enough to try delicious street food.
Your private taxi driver will also be glad to help you to organize a cooking class in Siem Reap. This is a special experience and generally very appreciated by all travelers visiting Cambodia.
Please avoid also to drink tap water. You can always ask to your cambodian driver to get you some bottled water. You will always have bottled water in the car during your trip in Cambodia.